What is 14K Gold Fill Jewelry? Let's Discuss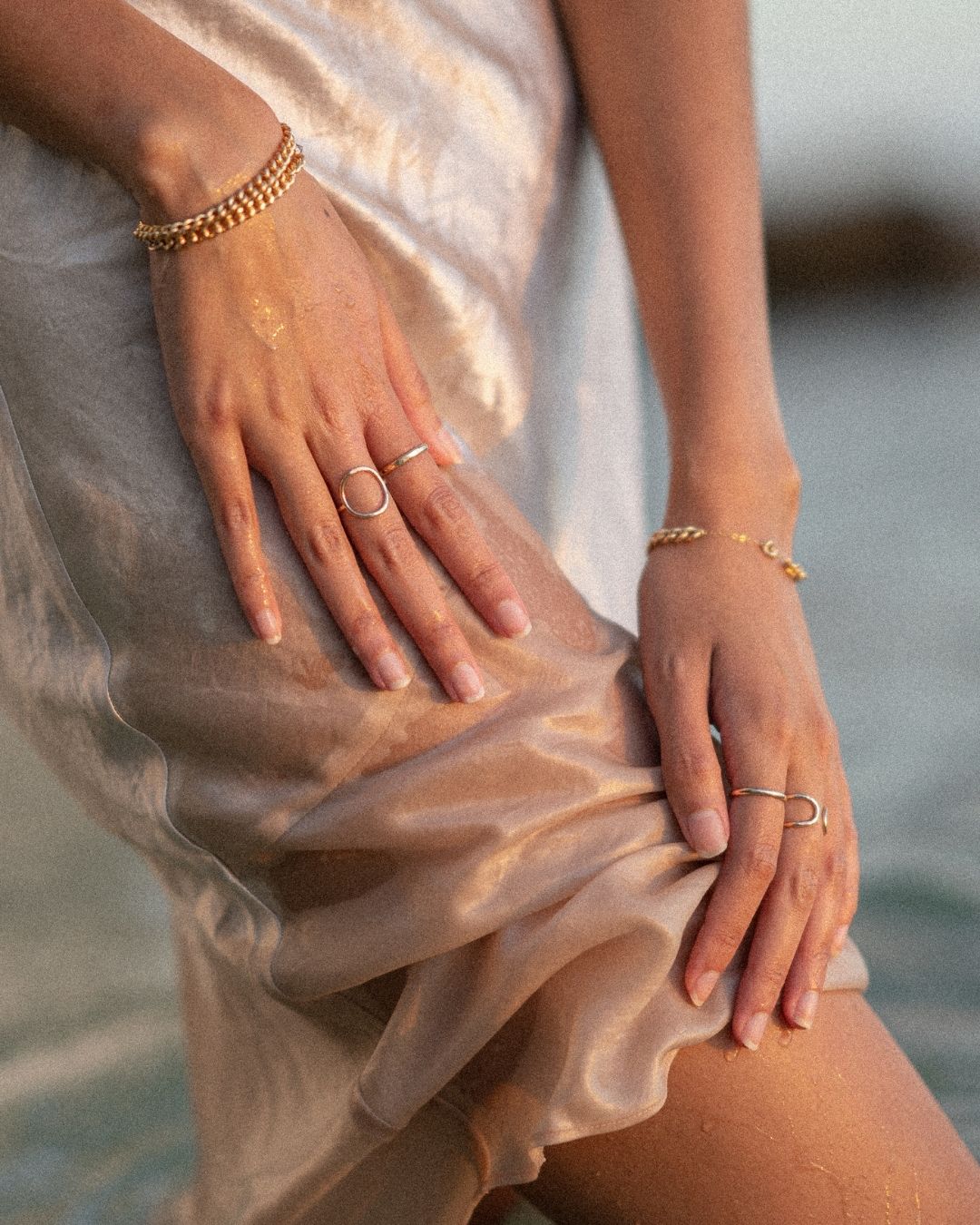 The short version: 14k Gold Fill is the next best thing from Solid 14k. Gold Fill is not the same as gold plated, which often tarnishes almost immediately after getting it wet. 14k Gold Fill can be worn in the water and won't make your skin tarnish! Continue reading to learn about why Gold Fill is so popular in Hawai'i.
In Hawaii, we are always at the beach either surfing in the ocean or surrounded by the sun. Known for the tropical and sunny days year-round, Hawaii also has some crazy humidity! That's why we use quality materials meant to last when making our jewelry pieces, like Sterling Silver and 14K Yellow Gold Fill. You probably know about Sterling Silver, but we're here to tell you a bit about 14K Yellow Gold Fill! It's the perfect alternative to 14K Solid Gold, without the price tag, and lasts just as long! 
Kolohe designs and manufactures our Gold Fill Jewelry in-house at our HQ located in Honolulu, Hawai'i. All our jewels are handcrafted and made to the very best standard recommended by the industry. 
What is difference between 14K Gold Fill vs. 14K Solid Gold? 
"The second best thing to solid gold."

14K Gold Fill offers an optimal balance of quality and value as it allows for durability and top quality that is just a step down from solid gold. By working with 14K Gold Fill, we can provide you with high-quality products at an affordable price.
Not to be confused with gold plated metals, 14K Gold Fill is much more durable. While gold plated metals will tarnish right after you get it wet, 14k Gold Fill will last throughout your showers and water adventures! 
How is 14K Gold Fill metal made? 
With 14K Gold Fill, the process involves mechanically pressure bonding the gold to the core, typically made of high-quality jeweler's brass, with a thick 14K Solid Gold layer. Through this process, which is highly regulated by industry standards, Gold Fill metals results in a more resilient exterior that's prone to tarnishing, flaking, or cracking. 
Can 14K Gold Fill Jewelry get wet? 
Yes, Gold Fill Jewelry can get wet! You can shower with Kolohe's 14K Gold Fill pieces (and Sterling Silver!). Still, we recommend taking off rings, especially, so the soaps don't get stuck onto your pieces or tangled in your hair when brushing products through. 
Does 14K Gold Fill tarnish or turn on the skin? 
Kolohe's 14K Gold Fill Jewelry does NOT tarnish or turn on the skin. The most that you will start to see minute discoloration on Gold Fill Metal is 20-30 years after your initial wear. What makes 14K Gold Fill so attractive to many shoppers is the metal's hypoallergenic qualities that allows people who are sensitive to Gold Plated or Gold Vermeil wear jewelry at a fraction of Solid Gold cost.  
How do I care for my Kolohe 14K Gold Fill Jewelry Pieces? 
Each purchase over $300 comes with a pro-polishing pad. If you see the metal beginning to get dull, it just needs a little polishing as oils and other residues of our skin collect on the metal naturally over time. Simply rub the polishing pad on the jewelry with slight yet delicate pressure. You can use the pad on both sides until it is black! 

Each piece is delicate, so you want to make sure to leave your Kolohe jewelry in a safe area where it won't get tangled. We recommend taking off your jewelry when sleeping.
Storing your jewelry properly will help to prolong the lifetime of it. Do not store your jewelry near soaps or open perfumes, as the metal can react to harsh chemicals. It is best to store in a box or airtight bag or pouch so that chemicals cannot get in. 
All Kolohe pieces are handmade in house, sometimes a solder joint will start to turn. We are always happy to offer repairs on each of our pieces purchased. Just message us and let us know what happened! 
Have more questions about gold-filled jewelry? Feel free to contact us and ask. We'd love to help!
---